THE NEED FOR ELECTRIC VEHICLE CHARGING
Transportation makes up about 25% of greenhouse gas emissions in Canada today. If Canadians are to meet ambitious federal net-zero emissions goals, the adoption of zero-emission vehicles is a necessity. And eliminating emissions in the transportation sector will play a crucial role in our county's goals for greenhouse gas reduction. 
To support this, the Government of Canada has set a mandatory target for all new light-duty cars and passenger trucks to be zero-emission by 2035, accelerating Canada's previous goal of 100% sales by 2040. 
BARRIERS TO ELECTRIC VEHICLE ADOPTION
However, there are barriers to widespread electric vehicle adoption that need to be addressed. 
The first is the cost of the vehicles themselves. EVs have typically been perceived as being luxury vehicles with a price tag to match, however, increased competition in the marketplace and federal and provincial rebates make owning an EV less expensive than most pickup trucks. 
The second barrier to EV adoption comes in the form of so-called "range anxiety", the fear that a consumer will run out of electricity and be stranded. The majority of Evs travel 200-400 km on a single charge, but most Canadians drive 60 km or less per day, so charging overnight will be sufficient for almost everyone. For long-distance travelling, a belief prevails that there are not enough charging stations available to support longer distances. However, with the completion of the coast-to-coast fast-charging network, and the federal government's commitment to invest heavily in charging infrastructure, we're overcoming these misperceptions, which will help to accelerate our rate of EV adoption. 
WHAT EV CHARGER FUNDING IS THE GOVERNMENT OFFERING? 
The 2019 Federal Budget committed CA$130 million over five years (2019-2024) to deploy a network of Level 2 (or higher) zero-emission vehicle charging and refuelling stations in "more localized areas where Canadians live, work and play." This funding has since been doubled to nearly $300 million. The funds are being administered through the Zero Emission Vehicle Infrastructure Program (ZEVIP). NRCAN has awarded Nova Scotia's Clean Foundation, a non-profit operating out of Dartmouth, Nova Scotia, $1.6 million to fund up to 50% of the cost of level 2 chargers throughout the province. They have budgeted $6,400 total per charger, leaving the potential for 250 chargers to be installed across Nova Scotia. 
WHO IS ELIGIBLE FOR EV CHARGER FUNDING?
Before getting into specifics of the application process, it is important to check the eligible applicants for each round of funding. Eligible Ultimate Recipients of the current round of funding include: 
Electricity or gas utilities

Companies

Industry associations

Research associations

Standards organizations

Indigenous and community groups

Academic institutions

Condo boards/associations

Provincial, territorial, regional, or municipal governments or their departments or agencies. 

 
HOW TO APPLY FOR EV CHARGER FUNDING 
If your business, group, or institution falls into one of the above categories, there are still several criteria to meet to ensure funding is allocated to the project, that we'll get into here.  
How many chargers can I submit for funding?
A minimum of 1 networked charger or "smart charger" and up to a maximum of 20 chargers or 100K in funding.  
What are the eligible locations for charging stations? 
Workplaces: Charging infrastructure stations must be primarily used by employees.
Multi-Unit Residential Buildings (MURBs): Infrastructure in parking spaces at the residence where people live. In the program guidelines, MURBs are considered buildings that have a minimum of three dwelling units.
Public places: Places defined as parking areas intended for public use, these parking areas can be privately or publicly owned and operated.
On-Street: Considered as curbside charging infrastructure for public use
Light-Duty: Infrastructure for fleets composed of multiple vehicles managed by  common ownership

What kind of expenditures are eligible for funding? 
Expenditures for an approved project must be directly related to the installation of charging stations and will include: 
Salary and benefits for staff directly involved in project work

Professional services (e.g., scientific, technical, management; contracting; engineering; construction; installation, testing and commissioning of equipment; training; marketing; data collection; logistics; maintenance; printing; distribution)

Capital expenses, including informatics and other equipment or infrastructure

Rental fees or leasing costs

License fees and permits

Costs associated with Environmental Assessments

GST, PST and HST net of any tax rebate to which the recipient is entitled

Costs not considered eligible expenditures under this program include:
In-kind*

Land costs

Legal costs

Ongoing operating costs (e.g., electricity consumption, operation, maintenance, networking fees, subscription fees, etc.)

Costs incurred outside the Eligible Expenditure Period, including those for preparing this response, attending the kick-off meeting and negotiating the Contribution Agreement
* In-kind contributions from successful applicants and their partners count towards the total project costs. If a successful applicant chooses to include in-kind support as part of the total project costs, it must be verifiable and directly in support of the project.  
THE MERIT AND RATIONALE OF THE PROJECT
To demonstrate the merit of the project, you must show that installing EV chargers at your site(s) makes charging more accessible to Canadians. After outlining the project rationale, you must also include: 
Key milestones such as obtaining permits, signing contracts, and procuring equipment

 

Affirm that the installation will be commissioned and operational within 24 months of the funding decisions being announced (for this round, funding decisions are expected to be made in March 2021)

 

A detailed budget for the project demonstrating that no more than 75% of the funding for the project is coming from government sources
Other information your application needs in order to be approved include: 
Proof of incorporation or registration

 

Proof of 50% secured funding of the proponent's share of total project cost

 

Proof of engagement with energy suppliers

 

Proof of access to site

 
APPLICATION

TIMELINE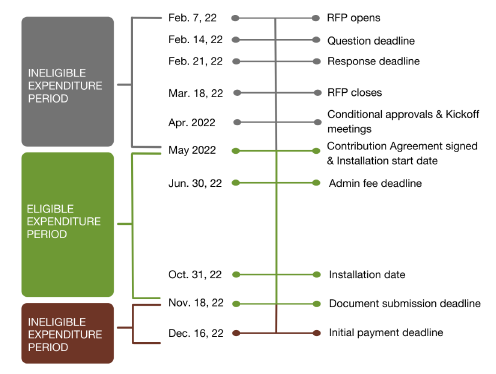 WHY YOU SHOULD APPLY FOR EV CHARGER FUNDING 
This funding is only slated to be available until the application deadline in April. All projects interested in receiving funding should ensure the site can be ready for the installation of chargers to be completed by the end of October. 
 Interested in learning more about the government funding available to outfit your business or organization with EV chargers? Get in touch with our Renewable Energy Specialist, Andrew, for more information.